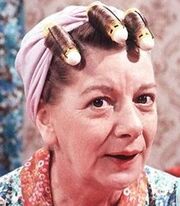 Jean Alexander (24 February 1926-14 October 2016) was an English actress who as most well known for playing Hilda Ogden in the British soap opera Coronation Street.
She voiced Mrs Santa in the UK version of the first Robbie the Reindeer film Hooves Of Fire.
Ad blocker interference detected!
Wikia is a free-to-use site that makes money from advertising. We have a modified experience for viewers using ad blockers

Wikia is not accessible if you've made further modifications. Remove the custom ad blocker rule(s) and the page will load as expected.